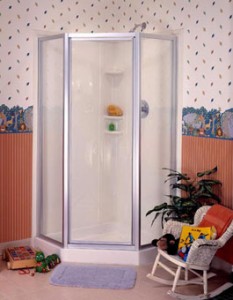 The walk-in shower has gained considerable buzz in recent years both as an assistive device for the elderly or infirm and, perhaps ironically, as a kind of status symbol for those wishing to embrace high style even in the bathroom. The fact that the same bathroom feature can be considered both stylish and safe speaks to the simple, common sense nature of the concept. As does the fact that a walk-in shower can be installed in just about any bathroom, regardless of size. But are shower enclosures for Toronto homes a good idea? Let's explore some of the pros and cons.
Walk-in Shower Enclosures for Toronto Homes
Because the shower enclosure wins praise for being both stylish and safe you'd think that installing one would be a no-brainer. But the fact is the walk-in shower is not without its potential drawbacks. Let's look at both sides of the issue:
Walk-in Shower Pros:
Adaptability – The walk-in shower enclosure is little more than a nook in the bathroom. There are no doors that need to slide to the side or swing out. As such you don't need more than about 20 square feet for an enclosure. That means they can be installed in just about any bathroom.
They keep things open – If you've got a smallish bathroom installing a bathtub or an enclosed shower will make the room seem incredibly claustrophobic. Because the shower enclosure is just an open space designated for taking showers small bathrooms retain a sense of openness.
They're safe for mom and dad – Because you can just walk straight into the enclosure without climbing over the side of a tub or opening a door they're considered very safe for elderly folks with limited mobility. They just walk straight in, turn on the shower and walk out when done.
They're stylish – Style is often a matter of presenting the unexpected in a simple, no-nonsense manner. You can be sure that when guests use the bathroom with the enclosure they're going to emerge wanting to talk about it precisely because it's unexpected and makes so much sense.
Walk-in Shower Cons:
Slip potential – Having an open-ended shower nook means water is going to end up on the floor in other parts of the bathroom, creating a slip hazard.
Glass hazard – Some enclosures utilize a glass sheet that contains water to a limited degree. While it's nice that this feature minimizes slip potential the blunt-end of the glass panel presents its own type of hazard.
Uncontained moisture – With an enclosed shower the heat and humidity from hot water is at least partially contained. Not so with a shower enclosure. Having the humidity infiltrate every corner of the bathroom can lead to mold and mildew where there was none before.
Shower enclosures in Toronto homes can be a benefit for older folks, although having an open ended shower stall in your bathroom is not without its downside as we've seen. Talk to the pros at Keystone about installing a shower enclosure in your home.