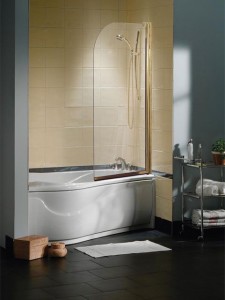 If you would like to upgrade your bathroom by creating a separate shower enclosure that leaves the rest of the bathroom free to use whenever you are taking a shower, there are two main choices for you to consider: framed or frameless. Both styles have their admirers and we can install either in your bathroom but in recent years, frameless shower doors have become the most popular option. There may be any number of reasons that individual homeowners prefer frameless to framed enclosures nowadays but those listed below are among the most commonly cited by our customers.
Why Our Customers Prefer Frameless Shower Doors
The fact that we have been helping homeowners in Toronto and the entire GTA to refurbish their bathrooms for many years places us in a great position to understand why people make the choices they do with regard to bathroom fixtures and fittings. The reasons that we hear most often for choosing frameless shower doors are as follows:
Visual Appeal – It may be a subjective matter of opinion but as far as the majority of our clients are concerned, frameless enclosures are simply more attractive and stylish than their framed counterparts. Installing frameless glass doors is a great way to create a separate, private shower area with a physical barrier between it and the rest of your bathroom, at the same time as maintaining the feeling of spaciousness that comes from not having any solid visual barrier between the two.
Longevity – Because they are all glass, frameless enclosures retain their good looks for much longer than framed enclosures. With no metal trim to scratch or discolour, they will look just as good after a few years' use as they did on the day they were installed, assuming they are cleaned on a regular basis. As you will see below, this is not an arduous task by any means.
Ease of Maintenance – Cleaning frameless shower doors on a regular basis is fortunately a very simple task as the whole surface area is made of glass. It is as easy as washing a window and can be done with the very same cleaning products. Alternatively, you can simply use the same products that you use to clean the rest of your bathroom surfaces if you prefer.
Functionality & Convenience – If you have a relatively small space in which to install your shower doors, a frameless enclosure will probably be the easiest solution, owing to the fact that they come with doors that can open both inwards and outwards. Framed enclosures, on the other hand, are only available with doors that open outwards, or sliding doors, which can be less practical in small spaces.
Safety – The glass that is used in the manufacture of frameless shower doors is necessarily thicker than the panes found in framed enclosures. This means that it is far more resilient to knocks and bumps, and will not shatter in the event of an accidental collision. If you have children in the home, or are just keen to ensure that your bathroom is as safe as possible, a frameless enclosure made from thick safety glass is the perfect solution.
If you would like to create a stylish and functional environment in your bathroom, call Keystone Home Products today to discuss your needs. With our knowledge and expertise, gained over our many years in the construction and bathroom supplies industries, first-class results are guaranteed every time. Call (905) 790-0997 to request a quotation for the installation of frameless shower doors or to ask for further details on the products and services we provide in the Greater Toronto Area.