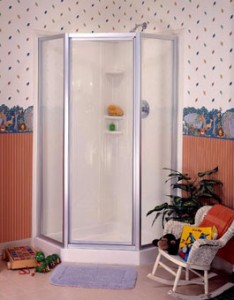 There are several examples in the world of home decor where one material represents a clear "step up" in sophistication, elegance and timelessness over other materials: granite countertops, for example. Glass shower doors are another example. They exist on a home decor plateau a clear step above shower curtains. Shower doors exude permanence, design wherewithal and sense of affluence not unlike granite countertops.
Finding the Right Shower Doors in Mississauga
Understanding their function can be helpful in choosing the right shower doors in Mississauga. In essence shower doors are:
Designed to minimize maintenance.
Intended to contain water within the shower stall.
Designed to provide the most enjoyable shower experience possible.
An integral component of the entire bathroom design scheme.
This last point is important because the shower door is expected to carry a substantial portion of the bathroom decor load. This is fundamentally different from the job of the shower curtain, which is to simply keep water in the shower. This means that if the shower door fails in its function as a design component, the entire bathroom decor fails by extension.
By looking at a shower door from the angle of design component instead of simply as a means to block water it will be easier to find the glass shower door that's right for your bathroom. Things to consider include.
Type of Glass – Is there cut or etched glass on the bathroom mirror? Is there frosted glass on the window? If there is you may want to carry one of these design motifs over into the glass on your new shower door. Keep in mind though that cut, frosted or etched glass is more expensive than plain, clear glass.
Color of Glass – Be aware of the fact that clear glass typically has a greenish tint to it. This is due to the presence of iron in the glass. You need to determine if this greenish tint is going to undermine other aspects of your bathroom color scheme. If it is, you may want to consider adjusting other colors in the room or using iron-free glass in your shower door.
Frames – If the bathroom mirror is frameless you'll want to consider a frameless shower door to unify the overall look. Although you need to be mindful of the fact that frameless shower doors are more expensive than framed ones.
Method of Access – Look for precedents. Do you have a medicine cabinet with sliding doors? If so you can carry this sliding theme over to the shower doors. Just remember you'll need significant horizontal space to do so; except in a corner shower stall where narrow twin sliding doors open in opposite directions.
Keystone Home Products has been fulfilling the interior design needs of homeowners across the GTA for more than 20 years. In that time we've established ourselves as the area's premier supplier of shower doors, dividers, shelving, mirrors and more. Call us today to talk to one of our interior decor experts about finding the right shower doors in Mississauga to complete the look of your bathroom.