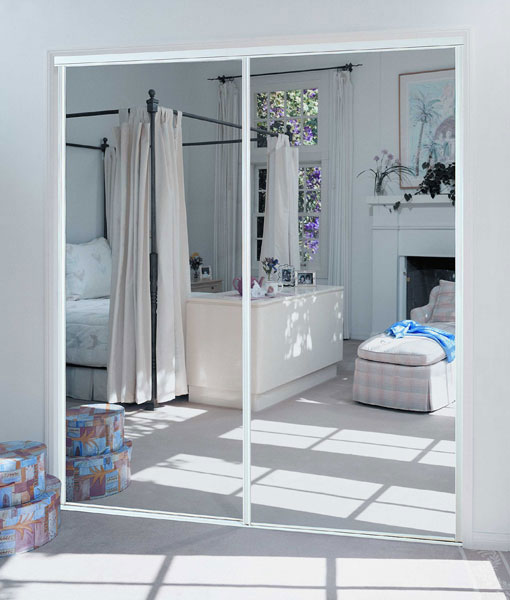 Running an apartment complex or building and want to improve your units? Or, maybe you're planning to have a new complex built in the near future? No matter what the case, Keystone Home Products can help you out with sliding closet doors for apartment bedrooms. Our sliding closet doors are high quality and look great. Here's what we can do for you.
Replace Broken Closet Doors
Apartment tenants come and go with quick, year-to-year turnover. Most don't stay in an apartment for more than 3 years, and those who do rarely stay past 5. With all of the in and out of different people, there comes a lot of damage to the apartment – especially to parts that aren't as sturdy as others.
One part of an apartment that may take frequent damage is the doors to the closets. Closet doors are typically hollow. The thin boards making up the faces of the door are easy to put a hole through if you're not careful. While cheap, closet doors are possibly to patch up, patches rarely look nice. These types of doors usually have a faux woodgrain pattern on them and a patch will leave an obvious blemish. Instead, consider replacing sliding closet doors through Keystone Home Products. Our sliding doors are affordable and can be bought in multiples.
New Apartment Closet Design
If you're looking into the steps to build a new apartment complex or building, something you should consider is the most efficient use of space. While many apartments have walk-in closets or coat-closet sized spaces with swinging doors, they're inefficient. Closets with sliding doors help maximize space and space usage. Not only do they allow tenants to view and access closet contents without having to dig around in the closet depths, their doors are space-efficient.
Swinging doors take a certain amount of floor space, while sliding doors remain in their track and overlap instead. With the size of many apartments' bedrooms, the ability to open the closet without needing two square feet of empty floor space is vital. Choose a design that uses sliding closet doors and let Keystone assist in construction.
Mirror Closet Doors
Want to make small apartment rooms look bigger? Using sliding closet doors with mirrors on their faces is a great way to do that. Mirrors reflect the existing space as well as encourage light flow. This is a very effective optical illusion that helps a small space feel larger. Tenants love to maximize the small spaces available to them and this will help them do that. By making your apartment bedrooms look more sizeable, you're also more likely to get new tenants. After all, no one likes feeling cramped and closed in.
Order from Keystone
Keystone Home Products offers sliding closet doors in multiple colors and designs. Check out our selection to see if any are right for you. When you're ready to make your selection, contact us to discuss making an order or come to our Toronto store to purchase them in person.