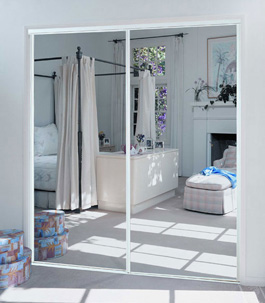 Tired of closet doors that haven't been updated since 1980? Or maybe you're just tired of the struggle to open swinging closet doors. There are a lot of reasons you may be in the market for new closet doors. Or, perhaps you didn't even realize until now that you were bothered by your closet doors. No matter the occasion, if you live in Toronto and you're looking for an upgrade, Keystone Home Products has what you need!
Replace Swinging Doors
One of the most frequent reasons for closet door replacement is that the type of closet doors someone has isn't what they want. Often, they have closet doors that swing outward and take up a lot of space. Trying to get into a closet that has swinging doors can be an ordeal. You have to make sure there's enough floor space to accommodate the doors. If you live in a cramped room, that's easier said than done. More often than not, you may end up wrestling with your closet doors and turning yourself into a pretzel to get to what you need on the shelf within.
Make accessing your belongings easy with sliding doors. Even if your floor is a mess, you can simply slide your closet door to the side, revealing the shelf or clothing rack you're trying to reach. Additionally, one of the best parts of ordering sliding closet doors from Keystone is that we custom make closet doors. That means that no matter the size of your closet doorway, we can outfit it with sliding doors that fit perfectly.
Replace Mirror Doors
If you have mirror closet doors, there are a lot of things that can go wrong. Unfortunately, mirrors are more breakable than most building materials. If your mirror closet door has a broken mirror, it's best to get it replaced quickly. Even if the pieces are still in place, it still poses a risk of injury. If any of the pieces fall onto the floor, you're fairly likely to end up getting cut from stepping on it. Therefore, you should prioritize replacing them quickly.
Fortunately, Keystone Home Products has mirror closet doors and we can replace the one that got damaged quickly and easily. Give us a call and tell us a bit about what you need and we'll have your order made in no time. No more dangerous, broken doors necessary.
Pick Your Color
When you order from Keystone, you can even pick the color that's right for you. Check out our closet doors and see what kind of color is right for you. You can even choose different colors for the door and frame, making your closet doors personal.
Contact us if you have any closet door needs in Toronto and Keystone Home Products will be quick to help. We have answers to your questions and look forward to helping you find the right product for your home.