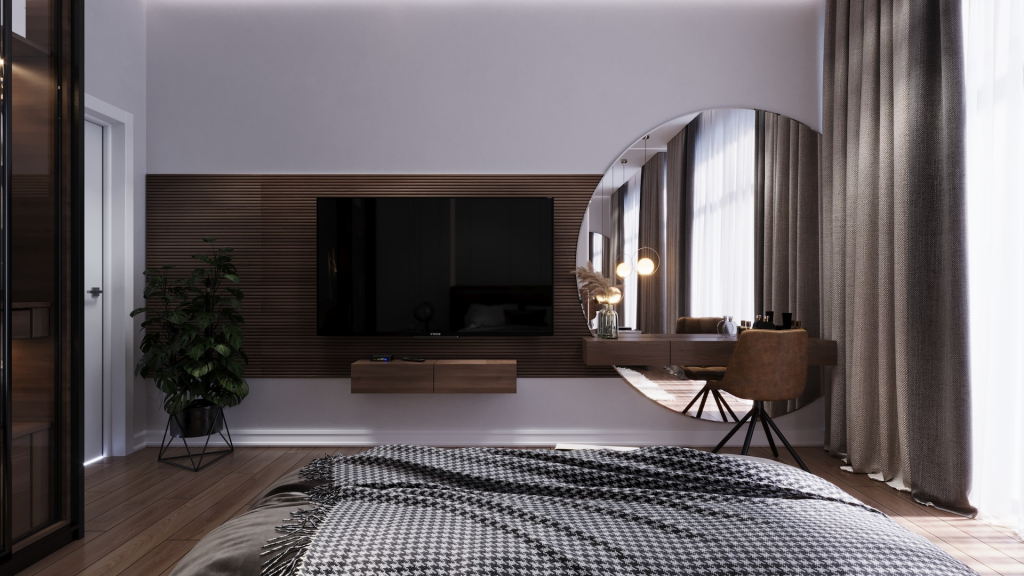 If you're looking for a great accent to your master bedroom, wall mirrors are a great idea. They come with a number of benefits past just offering you something to plan an outfit in. Let's check out some of the ways they can improve your room and everyday life.
View Full Outfits
Of course, the first benefit of any big mirror is the ability to view your entire outfit at once. A bathroom vanity is limited to showing you how you look from the waist up. Sure, you can stand on a chair or back all the way out of the bathroom door in the hopes of seeing the rest. However, getting mirror walls for your bedroom will make this unnecessary.
Floor to ceiling mirrors allow you to comfortably try on clothes and view your entire outfit at once. This is great for professionals who need to look their best when they go into work each day. Even if you wear the same type of clothes each workday, a mirror does more than help you color coordinate. Being able to see yourself prevents embarrassing outfit mishaps like part of your shirt being untucked in the back. Get the full picture with master bedroom wall mirrors.
Create a Lighter Room
Seeing how you look is only the most basic benefit to having master bedroom wall mirrors. In addition to that, master bedroom wall mirrors will also make the room lighter. Mirrors reflect light – both from outside and from lamps. The reflected light bounces around the room, illuminating areas that would otherwise be dim or entirely dark. Creating a lighter room with your floor to ceiling mirrors will make finding things easier and can even reduce depression.
Make Your Room Feel Bigger
Finally, master bedroom wall mirrors will make your room feel bigger. Having an entire wall reflecting the room back on itself will make it feel twice as big. Even if you don't actually have that extra space, tricking your brain into feeling like it's there can make the actual size of your room feel much less cramped. Even small rooms with floor to ceiling mirrors can feel big and spacious.
Mirror Closet Doors
If your wall of choice for wall mirrors has a closet in it, fear not. You may not be able to install regular wall mirrors where your closet is, but you can install mirror closet doors. With regular wall mirrors and mirror closet doors working together, you can cover your entire wall with mirrors in one form or another.
Buy Master Bedroom Wall Mirrors
If you live in Toronto, Keystone Home Products is here to help you on your journey to a more spacious, lighter bedroom. We specialize in home products, including mirrors of all sizes. Give us a call if you have questions about our mirrors. Or, come down to our store in person and see what we have to offer. You're sure to find exactly what you need and can completely transform your master bedroom with one simple addition