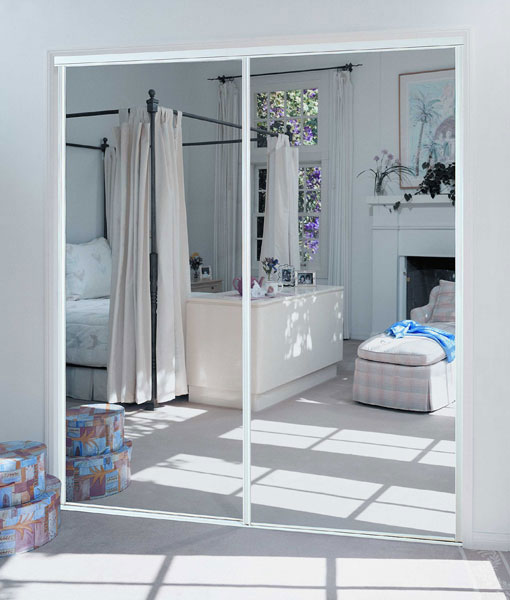 A small space can begin to feel crowded very quickly. Every piece of furniture and every decoration that takes up blank space in a room contributes to crowding. If you're like most people, you like to feel like you have a little breathing room in your home. That's why it's important that we as people come up with new and inventive ways of giving ourselves that breathing room. Sometimes breathing room comes in the form of optical illusions. Making your space feel bigger than it really is can be just the antidote for a crowded bedroom. Today, Keystone Home Products wants to let you in on how you can benefit from mirror closet doors.
Multiply Space with Mirror Closet Doors
The reason why mirrors are so useful for making a space feel bigger than it really is is because the mirrors are multiplying your space. A mirror reflect back all of the empty space your room has to offer. That means, when your gaze falls on a mirror closet door, the reflected space registers as being real. That means your brain is less prone to panicking because there's not enough room to move around. It's calming to feel like you have room to move.
Brighten Up the Space
The next thing that mirror closet doors accomplish is actually important for anyone who spends a lot of time in their bedroom. Even if you like things cozy, you can always benefit from better lighting. Whether that's lamp-light or sunlight, pouring in through the window, your mirror closet doors will reflect it. Mirrors help brighten up a space incredibly well. Rays of light will bounce off a mirror's reflective surface and bring light to even the darkest corners of the room. Combining mirror closet doors' ability to spread light and multiply space, your room is on its way to feeling bigger in no time. 
More to Look At
It might seem like mirror closet doors are only effective at making a room feel bigger by spreading light and multiplying space, but there's more – more to look at, to be exact. This is something that's somewhat unique from the space-multiplying effect. When you have more to look at – when you can see things from a different perspective than you usually can when seated in one place, it generally makes a space feel bigger. If your brain isn't running out of things to look at as fast, it's more mentally engaging and feels larger. This effect will help to keep you from focusing on how small a space actually is.
Clean-Inspiring
Possibly a side effect of the last point, having mirror closet doors tends to inspire people to pick up after themselves more. Being able to see every corner of your room from a different perspective than you normally do can help with clutter-blindness. This can inspire you to pick up more. And, as we all know, picking up a space makes it significantly more spacious. 
If you want to upgrade your closet doors, get some help from Keystone Home Products. Contact us for help making your purchase and our experts will be more than happy to assist.