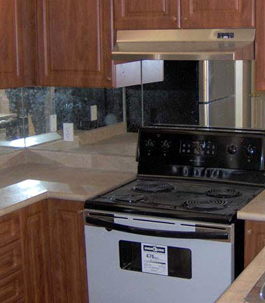 There are a lot of really cool design choices available for kitchens these days. With time, people continue thinking of really creative ways to improve their interiors. One of those really cool improvements is the installation of a mirror backsplash.
What is a Backsplash?
A backsplash is a coating of some kind that you can put over the wall behind your counters and stove. Backsplashes come in a variety of styles, though the most common is tiling. Backsplashes are put in place for two reasons.
They are functionally useful for protecting your walls. It's easier to wipe grease off a backsplash than paint, which will wear down and get damaged from excessive cleaning.
They look great and can serve a number of purposes in the kitchen's design, including making the space feel bigger.
Mirrors in Design
Mirrors are incorporated into interior design all the time. Aside from their functional uses, mirrors have a fantastic quality: they make a space feel bigger. Due to their reflecting capabilities, mirrors can make a room feel twice the size just by reflecting it back onto itself. This makes mirrors a frequent choice in design. You can add the illusion of space by putting them on closet doors, on ceilings, and yes, even as a kitchen backsplash. Mirrors lend themselves well to being kitchen backsplashes. They make your counter space feel larger and provide a better view of your ingredients when cooking.
Cleaning
One of the great benefits of using a mirror for a backsplash is that they're easy to clean and more hygienic than a number of backsplash alternatives. For instance, tile is the most common backsplash used in kitchen design.
While tile may look great, it's not very easy to clean. The grooves between each tile are great at catching dripped or stuck-on food from the cooking process. Once this food dries onto the tile surface, it's hard to get off. You can't just wipe the surface clean in one go because it isn't flat. You have to stop at each space between tiles and ensure they've been wiped clean. Therefore, these grooves between tiles are not usually cleaned adequately. It's a great place for bacteria to hide and grow, often leading to discoloration.
Mirrors, on the other hand, are a flat, smooth surface. They're non-porous as well, meaning no little spaces for bacteria to hang around. Simply spray your mirror backsplash down with some standard, food-safe cleaner, such as one with a vinegar base. Wipe down the surface until all visible spots are removed and your backsplash is bacteria free once more.
If you'd like to inquire about mirror backsplashes or other fantastic additions to your interior, give us a call at Keystone Home Products. We have everything you need to make your house a home.