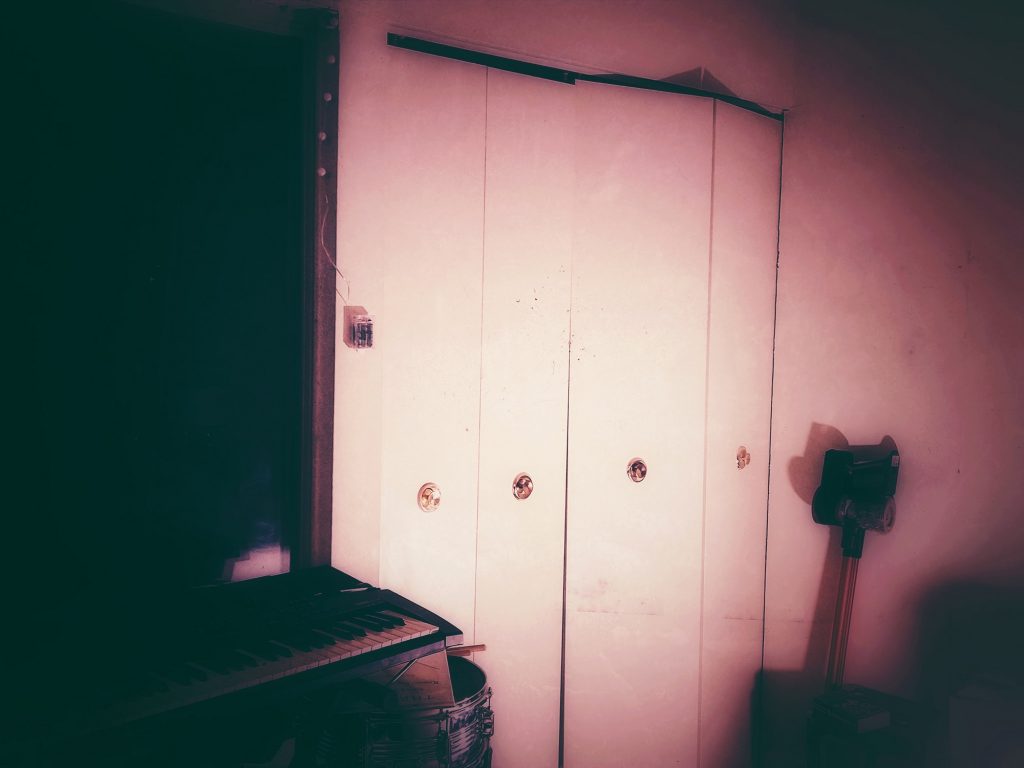 If you're planning to replace your closet door(s), you're going to need to know the trick to removing them. All closet door types have different hardware connecting them to the closet food frame. Today, we're going to focus on how to remove bi-fold closet doors.
How They're Secured
This type of closet door is one of the trickiest to figure out without help. While most people have some idea of how to take off a regular door, and sliding doors can be figure out with some jimmying, bi-fold doors are a bit tougher.
Bi-fold doors are held in place by two pegs – one on top and one on bottom. The top one is the one we're working with to remove the door. It looks like the image below. If you're familiar with the door on a pet carrier, you'll be quick to pick up how bi-fold doors are secured. 
Looking at the peg holding a bi-fold door in place, it's fairly intuitive that it must retract somehow. In fact, it's spring-loaded. However, what makes these difficult is that these pegs are strong. The springs in them aren't childsplay. After all, they have to hold a door on. If the springs were weak, the peg could come loose and the door could fall off, injuring someone, or worse.

How to Remove Bi-Fold Closet Doors
So, to remove bi-fold closet doors, the first thing you need to do is find something flat and metal. Or, if you have some really strong twine, that may also work. If you look at the sample picture, you'll see a ring around the top of the peg. This is usually flush, or almost flush, with the hardware screwed into the door frame. In order to retract the peg, you have to have something that can hook over that ring and pull downward without breaking.
Twine Method
Let's talk about the twine method first. This method is really only possible if there is a small gap between the peg's ring and the hardware or door frame. Take a piece of twine about half a meter long and position it behind the peg, centered. Slip the twine between the peg ring and frame hardware. Bring the twine forward, crossing it in the front, and then circling around behind the peg again. Cross it to the front once more and tie it in a knot.
The twine has now looped twice around the peg. Hold the door with one arm and wrap the end of the twine around the other hand once. Pull down. If the twine is strong enough not to break, it will pull the peg down, removing it from the frame hardware and freeing the door.
Metal Method
If there's no gap between the peg and frame hardware, or you have no strong twine on hand, you'll want something flat and metal. A butter knife may work well, but should be used with caution. This may also scratch or bend what you're using, so don't use something you cherish.
Slip the flat piece of metal you've found between the peg ring and frame hardware. You'll need two hands for this, so have someone else hold the door, or press it toward the wall with your body. When the metal is in place, place one hand on either end of it and pull down. It should do to retract the peg if it's strong enough.
Buy Bi-Fold Door Replacements
When you successfully remove bi-fold closet doors, the next step is replacing them. Keystone Home Products has great framed or unframed mirror, bi-fold door replacements. Check out our selection today and get a great deal on your next set of closet doors.