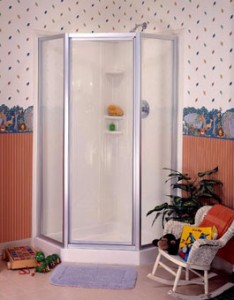 Shower door glass is an often overlooked aspect when designing, renovating, or installing a shower. In reality, homeowners have many varieties of glass to choose from when installing shower doors.
From glass that provides privacy to glass that gives your bathroom a sleek, modern look, the options and characteristics are vast.
The Different Types of Glass and How to Choose the Right One for Your Shower Doors
Not all shower door glass is the same, here's a how-to-guide for Mississauga and Toronto residents to choose the right glass to suit their bathroom's style and needs:
Clear Glass: Clear glass is the most versatile and widely used glass in shower doors because it allows for the passage of light into your shower and also lends to a more open feeling bathroom. Clear glass is the perfect choice if you want your bathroom to feel less cramped and give it a bright, contemporary look. Another perk of clear glass is that it is very easy to clean and maintain.
Frosted Glass: Homeowners seeking privacy should look at installing frosted glass shower doors. Not only does it provide privacy, there are also many design options to choose from like different colours and patterns. Frosted glass doors have a satin-like look and hide most fingerprints and watermarks. On the downside, frosted glass doors can sometimes feel dark and segregated from the rest of your bathroom.
Rain Glass: Like frosted glass shower doors, rain glass doors offer privacy and are perfect for hiding fingerprints and stains. Rain glass stands out from frosted glass due to its decorative, eye-catching rain patterns on one side.
Tinted Glass: Tinted glass comes in many different tones and colours like bronze, grey, or black. This choice of glass is great for homeowners looking to create a fresh, one-of-a-kind bathroom. The dark, tinted glass provides privacy and is the perfect complement to your bathroom's colour palette.
Hammered Glass: Hammered glass doors are known for their distinctive texture that resembles hammered metal. These type of shower doors give your bathroom a bold appearance. The hammered glass also creates cool visual effects as light enters the shower.
What to Consider When Choosing Your Shower Door Glass
Budget: The most obvious thing to consider when choosing a type of shower door glass is which type you can afford. Hammered, tinted, and rain glass tend to be the most expensive while frosted and clear are cheaper options.
Privacy: Privacy is also another important thing to factor in. If you are live in a studio apartment or with a significant other then you might be fine with clear glass for your shower. But those living with kids or relatives might want to think about the other glass types which offer privacy to avoid any awkward situations.
Style: Homeowners should also look at shower door glass that meshes with the style and feel of their bathroom. For modern bathrooms, clear glass might look best while tinted glass looks great in a bathroom with dark colours.
As Toronto and Mississauga's leading homebuilders, Keystone Home Products' can help you choose the right shower door glass to fit your needs.
To learn more, call us at 905-790-0997.