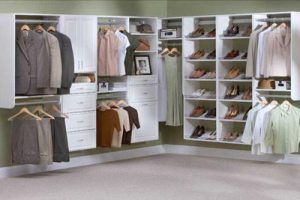 Do you spend your mornings frantically rifling through your clothes, trying to find a decent outfit that isn't seriously wrinkled? Does your closet look like it has been ransacked and rummaged through to the point where you don't even know how to start tidying it up? If so, it might be a good time to look into custom closet organizers.
Adding extra shelving and racks will not only help you declutter your closet, but it will give you the chance to create a space that is so much more than just a place to hang your clothes. Use these four tips to create the walk-in closet you've always dreamed of!
Showcase Your Favorite Collections
You'll want to situate your new wood shelving and custom drawers so that they're the first thing you see when you enter your walk-in. This will make the space appear larger, and will give the automatic impression of a crisp, organized closet. What you choose to stage on your shelves is up to you! Whether you love collecting hats, or you're a shoeaholic, make sure to showcase the items in your closet that make you proud.
Make it More than Just a Closet
To truly enjoy your new walk-in, add items to make your new space more of a staging area, rather than just a plain closet. Optimize the design of your custom closet organizers to add a countertop for accessories like a mirror, a watch shelf, or a jewelry box. Adding a chair or ottoman for a place to sit when putting on shoes or jewelry is another great way to revamp the area from a just a closet, to a dressing room. This can also help you save time when you're getting ready for the day.
Creative Coloring
Choosing white for your custom closet organizers will give the space a sophisticated, timeless feel. To keep up with the classy look, try organizing your closet items by color. This will give your closet a sense of an effortless flow throughout the space.
Don't Be Afraid to Experiment!
The great thing about designing a new walk-in closet is that it is hidden from your guests! Any DIY projects you've been wanting to try, or any funky accent colors you have fallen in love with, are all fair game!  Place flowers, picture frames, or any other fun knick-knacks on top of your custom drawers to help make your closet feel more personal. You want to create a space that you're comfortable spending time in. Try out a new light fixture to really make the space extravagant.
The most important thing to remember when designing your dream walk-in closet is that it is, in fact, your closet. Use whichever design tips you're comfortable with, and don't be afraid to think outside of the box! And, if you really want to get the feel of luxury in your closet, consider adding a mirror closet door to really help open up the space.