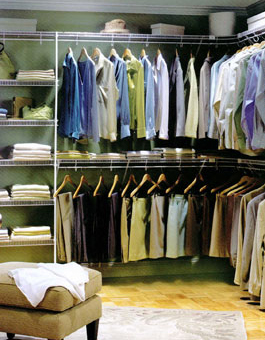 Tired of your closet being a mess all the time? The truth is, it can be hard to keep your closet organized without the right organizational tools. That's especially true if you have a lot of stuff or not a lot of closet. If you want to know how to improve your closet organization, you should start with wire shelving from Keystone Home Products.
There are a lot of ways that wire shelving can improve your closet organization. Unfortunately, we can't cover every single method, as you could go on forever, with enough creativity. However, we will cover the most effective methods of using wire shelving to boost closet organization. 
Adaptability
The first thing that makes wire shelving better than many of the shelving alternatives is that it's adaptable. Because wire shelving is assembled in a way that's impermanent, you can adjust it later if you need it to function differently. However, at the time of installation, you can choose exactly how you want it to function to begin with. That means you get a fully customized set of wire shelving, including any combination of shelf sizes that you want.
Not only is our wire shelving customizable, you can also further adapt it by introducing other variables. For instance, having a long shelf across the top of your wire organizer allows you plenty of space for bins and boxes used for storage. You can even use open-topped bins or baskets like drawers. Decorative fabric and wire baskets can be bought from most stores that sell household goods. These look great and add a lot of functionality. Use these to store socks, underwear, hats, or anything else that's hard to store by folding.
Hanging Bars
Wire shelving is great because it functions as both shelving and as a place to hang clothing. Keystone's wire shelving has a bar across the front that's specifically included for hanging clothing. Consider storing jewelry boxes or other cases on the shelf while hanging shirts beneath it.
Combine Storage Methods
You don't have to use only wire shelves. Consider combining storage methods to maximize storage efficiency.
Use a hanging shoe holder, hanging it from the hanger bar.
Use a high or low shelf to hold vacuum-sealable bags of out-of-season clothing or blankets.
Place organizer drawers on or under shelves.
Take Advantage of Wire Shelving
Wire shelving has a bonus feature just by virtue of being wire. You can use wire shelving as its own storage method. For instance, you can use one of the hanger bars to store necklaces or bracelets. Clasp necklaces on one of the bars that's least disturbed by frequently used belongings. This makes them easy to look through and less likely to tangle.
Safer Storage
One of the least recognized benefits of wire shelving is that it provides safer storage. Because wire shelving allows better air flow, your belongings are less likely to experience mold, mildew, dust, or nesting by bugs or rodents, even if you have them in your home.
If you're ready to upgrade your closet, give us a call at Keystone Home Products or visit our Toronto store. We want to help Toronto improve its organization, one closet at a time.