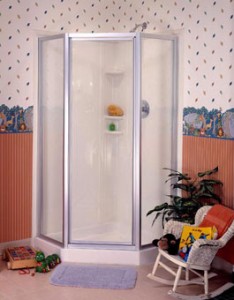 If you are remodeling or renovating the bathroom you'll need to select new shower doors. Of primary concern will be making sure the style of the doors meshes with the design of the bathroom as a whole. However, something people don't think about when they're upgrading their shower doors is their thickness. The thickness will determine the weight and safety of the doors and will also play a subtle but important role in how the doors mesh with the other components in the bathroom. Let's look at some of the considerations that go into determining the best thickness for shower doors in Mississauga homes.
Shower Doors for Mississauga Homes: How Thick Should They Be?
Nearly as important as style will be selecting the proper thickness for your shower doors. Too thin and they may look out of place next to heavy materials like natural stone, too thick and they may put too much of a load on the walls which could lead to the shower enclosure collapsing. So what exactly are the different thickness options when it comes to shower doors?
3/8 inch – This is considered by many to be the minimal thickness a shower door should be in order to provide the necessary stability and ensure structural integrity of the shower enclosure. 3/8 inch is perhaps the most popular thickness choice both because it meets the minimal safety standards and because it's more affordable than thicker glass.
1/2 inch – With a 1/2 inch thick shower door you'll be buying a much more substantial look and feel for you shower enclosure. You'll easily perceive the difference in weight when you slide or swing the door open and that heftier feel will subconsciously provide you with a sense of both greater opulence and greater safety. As mentioned above however, you need to be sure your walls will be able to support the increased weight.
Is There Really a Difference?
There very definitely is a difference in the way the thicknesses of doors are perceived. While you may not always be able to put into words every perception you have your brain will nonetheless pick up on and appreciate the difference in thicknesses. At the same time however structural concerns cannot be dismissed so you'll need to determine if the walls in your bathroom can handle the additional weight that comes with thicker doors. Of course if you had 1/2 inch thick doors on the shower before then there should be no reason for concern about installing new ones that are just as thick.
Keep in mind too that there are those who champion the idea of 1/4 inch thick shower doors for Mississauga homes but we believe that to be too insubstantial. Safety is, after all, a major concern in the shower and 1/4 inch thick glass around the shower enclosure is uncomfortably fragile. Give Keystone a call to discuss your renovation project. We'll make sure you get the perfect shower doors for your bathroom.