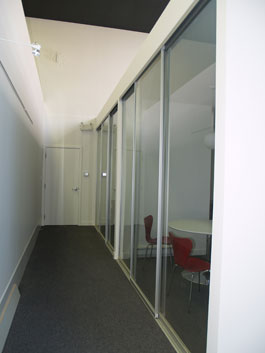 Are you looking to allow better light flow in your home or office? You may need to consider aluminum room dividers. These dividers can come in a number of styles and sizes as well as with varying track types. They're made with clear or acid-treated glass to allow better light flow in an interior space. Let's take some time to see all the ways you can benefit from aluminum room dividers.

Stylish Closet Doors
Closet doors can be really boring. Therefore, use the opportunity to make them more of a design statement by choosing aluminum doors? These doors can be fit with a number of different inserts, allowing you to pick between many different glass types. You can even pick mirror inserts. These have the added benefits of making your space feel bigger and giving you a full-length mirror for dressing.

Paired Inserts
Because of the generous 6mm space in these aluminum doors for inserts, you can even pair them up. That makes it easy to choose different materials for each side of the door. Want a full length mirror to face the inside of your walk-in closet? You've got it. Maybe you're not as keen on having a mirror facing the rest of the room. No problem. You can choose one of 4 other glass materials for the other side. Plus, if you're not interested in glass, try using wooden inserts instead.

Beat Building Code
Many small apartments or condominiums offer only small windows in bedrooms or even none at all. When it comes to building code, it's often required that bedrooms have a certain amount of natural light in them. To allow for enough natural light in your bedroom, even without a bedroom window, light flow is key. Therefore, we suggest using fogged glass doors for the bedroom. This will allow natural light in from other windows in the unit.

Varying Tracks
Getting to choose the insert types is cool and all, but what about the tracks? You can choose those too! There are even a number of ways to arrange the tracks. Consider each of these fantastic arrangements:

Single track double doors can fit on one track and slide away from each other, meeting in the middle.
Double track double doors means you've got two doors with tracks one in front of the other. This allows you to slide both doors to one side if you like.
Barn door style allows you to attach a track to the top of the door(s), keeping your walkway clear.
Pocket door tracks allow your door to slide into the wall. These are great for unobstructive bathroom or bedroom doors.
If you're interested in outfitting your home or business with aluminum room dividers, give us a call at Keystone Home Products. After all, we're looking forward to your call and are happy to help answer any questions you have.