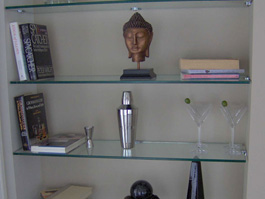 Having enough storage space can be a difficult feat in many homes. This is especially true in contemporary homes. Trying to add storage space without cluttering up a room can be difficult, but keeping things somewhat pristine is a mark of contemporary interiors. That's why Keystone Home Products is here today to suggest glass shelving as a solution. Here's how glass shelving can save the day.
Avoiding Weight in Design
One of the things that you should try to avoid in contemporary interiors is having weight in your design. Weighty fixtures don't match with the design style. Instead, the goal is to find balance in light and dark colors while maintaining a kind of lightweight appearance. This is why contemporary design makes use of such things as glass and metal. You can use little of each of those materials while having much more strength than you would get out of the same amount of wood. To have enough strength in a wood shelf, you need it to be thick enough to bear the weight of its contents.
Glass is a great way to avoid weight in your design. Glass shelves don't have to be very thick to hold up books or decorations. The thinness of the glass, coupled with its transparency, makes it a fantastic, lightweight addition to your interior. This is why glass is used so much in contemporary design. 
Glass Shelving Lightflow
An additional feature of glass, which makes it so popular in contemporary homes, is its ability to aid in lightflow. Because glass is transparent and won't block light, it allows you to see the contents of a shelf very easily. This is why glass is such a popular choice for display cases and decor shelves. 
Have you ever tried displaying something on a wooden book shelf? To get the necessary lighting on a wooden bookshelf to make viewing decor or displays easily, the shelves must be far apart and there must be plenty of light in the room, ideally, directed at the shelf. Glass shelving can be placed closer together and requires less direct light to adequately show off its contents. This makes glass shelving great for contemporary homes, as contemporary interiors are often looking for ways to display decor.
Easy to Clean
Glass shelving has another benefit. It's easy to clean! Many types of wooden bookshelves require wood-safe cleaners so that the finish isn't ruined. Glass shelving, on the other hand, does not. You can use virtually any cleaner you like to wipe down your glass shelving. It won't be easily damaged by the wrong choice.
Plus, glass can stand up to water a whole lot better than wood can. This makes glass shelving a great place for displaying a vase of flowers or a fish bowl. When moving either of these things or making changes to them, a little spilled water won't damage your shelf. 
If you're interested in purchasing glass shelving for your home in Toronto, come to Keystone Home Products. If you have questions about our products, give us a call and we'll be more than happy to help answer your questions.