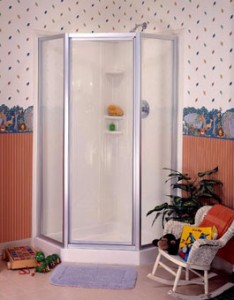 It's a new year and that means taking a fresh look at those home improvement projects you've been putting off for months. No more excuses about how the work will interfere with holiday festivities or how uncle Tony will be unhappy if you replace those, uh, beautiful tiles he installed in the bathroom a couple of years ago. Just time to dust off the to-do list and get cracking. In this post we'll give you 5 reasons why changing your shower doors in Mississauga should be at the top of your 2017 to-do list.
New Shower Doors in Mississauga from Keystone
A set of beautiful new frameless shower doors will transform your mundane bathroom into a sophisticated oasis family members will be lining up to spend time in. Frameless doors have that "wow" factor your moldy old doors just can't touch. Here are 5 good reasons you should change your old shower doors in 2017.
Lighten up: If you have framed shower doors that are more than a few years old chances are they're getting a little worn about the edges. It's also possible that they've accumulated a significant amount of soap scum and atmospheric dirt and are nowhere near as clear as they were when you had them installed. Time to let them go and install dazzling new frameless shower doors in Mississauga from Keystone.
Break it down: Even fairly discreet frames around glass panel doors can create the sense of a divide between one part of the bathroom and the other. Break down the sense of separate areas and open your bathroom up visually with frameless glass doors. Your WC will seem larger, cleaner and more comfortable as a result.
Add value: It doesn't take much to elevate the look and feel of your bathroom. All you need is to target the right items for renovation. When you change your shower doors to reflect a cleaner, more contemporary look you're saying you care about your home, its appearance, its comfort level and its overall value.
Make a design stand: A lot of bathrooms have a kind of ad hoc feeling to them. Since the shower doors are the biggest item in the bathroom you can use them as a bold starting point for a bathroom redesign. The sense that the bathroom has been remodeled will be much stronger than if you, say, only replaced the faucet heads.
Get a jump on the Joneses: What good is upgrading parts of your home if you can't brag about it to family and friends? Installing new shower doors in Mississauga will give you something to gloat about when the neighbours come over. And isn't that the point of spending on home improvements? (At least part of the point).
Changing your shower doors in Mississauga now is a great way to jump start home improvements for 2017. Call Keystone Home Products to find out more about which style of shower door will be right for you and how they can elevate how you experience your entire house.