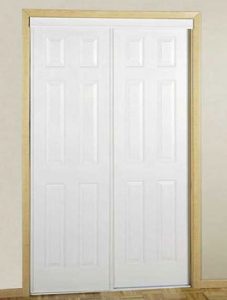 Out with the pushing and pulling, and in with the sliding! Sliding panel doors are a great way to add space and practicality to any room. Their ability to glide open and basically disappear makes it feel like you are joining together two previously separated rooms into a single giant room. The panel doors at Keystone Home Products are all custom made. Whether you're considering a classic wood install, or you're looking to complete your closet with sliding mirror panel doors, Keystone Home Products has the perfect, custom made option for you! If you're not sure sliding doors are what you're looking for, consider these three benefits.
They Save Space
Traditional swinging doors take up room when they are open. Perhaps one of the greatest benefits of panel doors is how much space they open up in a room. Panel doors are perfect for areas in your house that might feel a little cramped, like a bedroom or a closet, because they will add all of the functionality of a regular door, without the wasted space.
Panel doors also allow for more space on your walls. You will have extra room to hang family photos, or works of arts, and they will never be hidden behind an open door.
Sliding closet doors not only save space, but they can add it, too. All you have to do is gently slide open your panel doors, and it will feel like two rooms became one. Your bedroom and closet will flow together seamlessly!
They're Super Functional
Like we said, custom panel doors save more than just space! Since you don't have to worry about a traditional swinging door taking up space, or blocking items in your closet, you are free to leave your closet panel door open as you get ready, and it won't slow you down a bit. You won't ever have to worry about reaching behind a door to get to your clothes.
If you are really into streamlining your room for functionality, the pros at Keystone Home Products offer mirror panel doors that open easily on custom fit tracks. Mirror panel doors can help you save even more time by skipping a trip to the bathroom mirror to check your outfit.
They're Stylish
There are so many different style options to choose from when picking out sliding panel doors. Keystone Home Products offer nine different frame options, from an elegant ivory, to a bold chrome, and you have a choice of three different insert colors. With so many options for solid panel doors, you can choose a style that is timeless and classy, like white on ivory, or you can go for a more modern look with an ivory insert, and a black frame.
You also have the option to make your custom sliding closet doors mirrors, adding a practical, yet stylish, feel to your bedroom.
The Bottom Line
No matter your style, if you are in search of panel doors in Brampton, you will find exactly what you're looking for. Adding sliding panel doors to your closet will open up extra room in any area, allow you to add more accessories to your wall, and will streamline your morning routine!