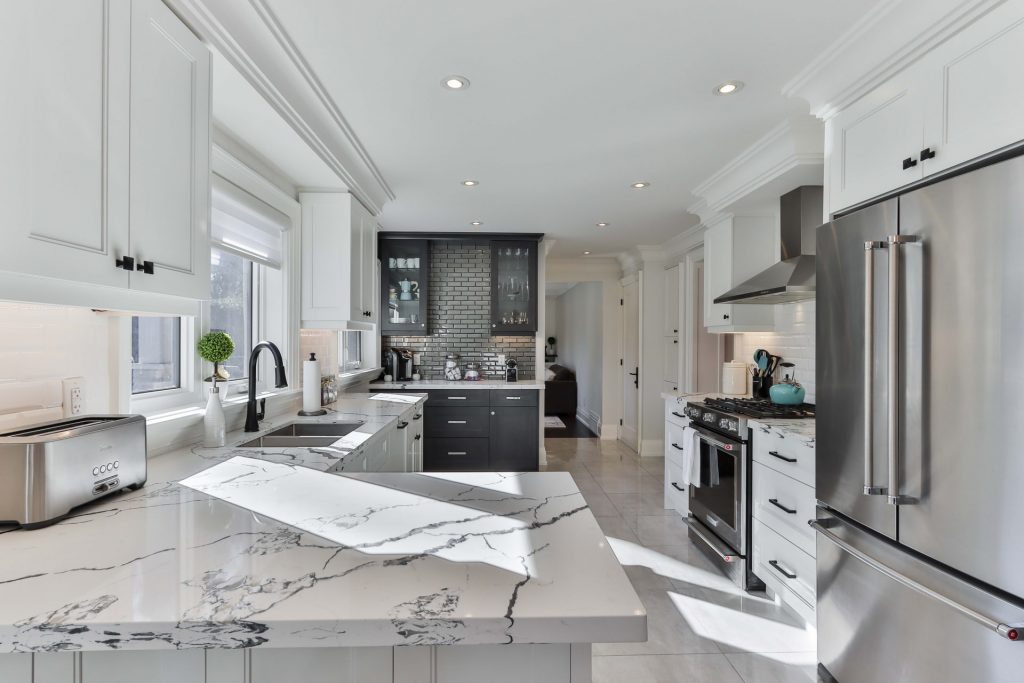 Want your kitchen to really stand out from the crowd? Finding creative ways to improve interior design is such a fun thing to do. That's why Keystone Home Products wants to clue you in on mirror backsplash for your kitchen. What is a mirror backsplash? Well, a backsplash is what you cover the wall with above your counters. So, in this case, we're talking about covering that space with mirrors. Let's check out some of the benefits of a mirror backsplash.
Looks More Spacious
Having a mirror backsplash for your kitchen means making your kitchen feel more spacious. Why is that? There are actually multiple reasons for this. The first is that the mirrors reflect the space back on itself, creating the illusion of more space. You may know, logically, that the space isn't that much bigger, but your brain will process the size of the space as bigger than it is. That's a great solution to a cramped kitchen.
Additionally, mirrors reflect light. Therefore, your kitchen will feel brighter as well. More light means more visible space. More visible space means the room feels less cramped. It's a win win.
Easy to Clean
Tired of trying to scrub splatters of food off of rough grout? Tiles are a huge pain to keep clean, especially in a kitchen. Anywhere you're stirring, frying, or otherwise preparing food is going to get food all over it. It may take a little while, but your backsplash will eventually be covered in evidence of your cooking.
The purpose of backsplash is actually to protect the wall. If you have no backsplash, scrubbing at the painted wall every time it gets food dried onto it can wear away the paint. However, tiles make cleaning miserable. With a mirror backsplash for your kitchen, you get the best of both worlds. A flat surface is easier to clean than one with dips and seams, but a mirror won't be harmed by repeated washing.
Not to mention, mirrors are hardy surfaces. You can use virtually any kind of cleaner to clean them. If you want to use window cleaner or soap and water, vinegar or 409, it's up to you. Any cleaner will get the job done and, so long as it's not absurdly harsh, it shouldn't do any damage to the sleek surface of your mirrors.
Sleek Appearance
If you want your home to have a sleek, contemporary appearance, a mirror backsplash for your kitchen will contribute to that. Not much is sleeker than the metallic sheen of a mirror. Plus, mirror backsplashes are only just entering into popularity, which means you'll be ahead of the crowd on the newest contemporary trends. Trends aren't important to everyone, socially, but they do make a difference when it comes to the aging of your house. House resale value will drop less if you stay ahead of trends. If you choose a style that won't reach its peak popularity for another 5 years, it will take 15 before it comes even close to going out of style.
Shop Keystone
If you're interested in mirror backsplash, Keystone Home Products has exactly what you need. Mirrors are one of our top sellers. Get high quality for a low price from your local home store. Give us a call if you have any questions. We look forward to hearing from you!