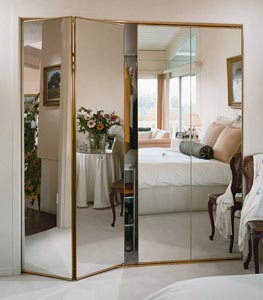 Living with a small bedroom can be difficult. If you have the rest of the house to help you store things, that's one thing. Sharing a space with others is a whole different story. If you share an apartment with roommates or share a family home, you know keeping everything you own in your room can be a real challenge. So, without further ado, Keystone Home Products is here to help you make your bedroom feel bigger with mirror bifold doors.
Reflect Light
One of the first things mirror bifold doors do to make your room feel bigger is reflect light. Small rooms can feel even smaller when they're dark. Having mirrors in a space allows lamplight, sunlight, and any other kind of light source you have in your room to reflect. This means your room is easier to light up. A small lamp reflecting light off mirror bifold doors can make your whole room feel adequately lit. Thus, your room feels bigger.
Double Space
Reflecting a space back onto itself makes it feel bigger. This is because, looking into a mirror, you see the space available in your room twice over, making it feel twice as big. While this doesn't actually give you more space to store things, it can trick your brain into feeling less cramped. This is why having mirror bifold doors will make your bedroom feel bigger.
If you want to do some cleaning that provides a similar feeling, try moving everything in your room toward the walls. If you have a walkway between your bed and the wall, remove it. Move any nightstands on that side of the bed to the other and push your bed toward the wall. Every bit of space that you move to be more toward the center of your room, the bigger it will feel. This extra space allows you more room to move around in, making the room feel less cramped overall. Plus, when you reflect a more open space, rather than a cramped one, the mirror doubling effects are even better.
View the Whole Closet
Mirror bifold doors have a special feature about them that standard, sliding doors can't hope to compete with. Because they fold in half and open outwards, you're able to see the whole closet at once. Sliding closet doors can tend to make small rooms feel smaller because they put limitations on what you can see all at once. Bifold doors allow you all the freedom of movement you desire. You'll be able to comfortably look through your clothing without having to switch which side of the closet you're looking at. That's sure to make your bedroom feel bigger.
Full-Body Mirror Built In
Because our brains equate accessibility with comfort and space, having mirror bifold doors allows an additional comfort. Having a full-body mirror built into your closet doors allows you to try on new outfits and check them out easily. This ease of access is sure to help you with your sense of space.
If you have any questions about our mirror bifold doors or any other products we offer at Keystone Home Products, give us a call and we'll be happy to help.