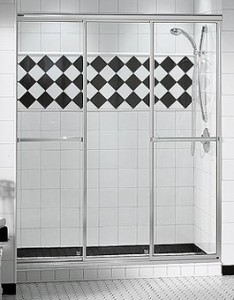 Glass shower doors are a beautiful addition to the bathroom, lending it an air of sophistication and openness. But that openness and beauty can be pretty effectively undermined when hard water residue, soap scum and dirt build up on the glass drawing attention to themselves and away from your lovely, airy design. What homeowners need is an easy and effective way to keep the glass around their shower clean so we've done a bit of research and come up with a way that can't miss.
Cleaning Your Shower Doors in Brampton
You could go and buy an expensive, heavy-duty glass cleaner containing bleach, ammonia and a slew of other chemicals to remove the dirt and grime from your glass shower doors in Brampton. Or you could try the method we're about to lay out. It's a lot safer, a lot cheaper and just as effective.
Pick up some baking soda from the store (somehow you knew baking soda was involved).
Mix it in a bowl with water until the baking soda has become a paste.
Take the paste and rub it right into the glass on the shower door. You can use your hand or a sponge but make sure not to rub too hard.
Repeat on all the other glass panels that make up the enclosure.
Pour vinegar into another bowl and dampen a sponge with it.
Then use the vinegar laden sponge to wipe down the glass. Dip the sponge back into the vinegar as needed until you've wiped away all the baking soda paste.
When you've finished removing the baking soda with the vinegar laden sponge rinse the sponge out thoroughly and wipe down the glass one more time to remove the vinegar residue.
What you'll see when you're done is spotless glass free of water stains and other nasty build-up.
If you have sliding doors on your shower enclosure don't forget to clean the guide tracks that the doors slide in. These tracks have tiny holes that allow water that gets into them to drain away. Find these holes and plug them with pieces of toilet tissue or paper towel. Then fill the door track with vinegar and leave it overnight. Just make sure to tell others in the house what you're doing so they don't try and use the shower and get an unpleasant surprise.
Preventing Dirty Glass on Your Shower Enclosure
Once you get the shower enclosure looking like new the best way to keep it that way is to invest in a high quality shower squeegee. These can be had from innumerable retail websites, cost less than a pizza and will help ensure that hard water stains, soap scum and other types of dirt and grime never get a chance to accumulate on your bathroom glass.
Cleaning your shower doors in Brampton doesn't require the use of harsh chemicals. Just remember to pick up a shower squeegee when you're done and use it regularly to stave off the need for future baking soda and vinegar cleaning sessions.